Use data to develop your economy!
Economic development organizations are using economic impact analysis every single day to measure the impact that tourism has on a local economy. Is yours?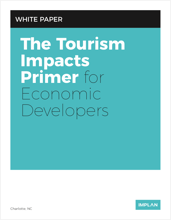 Download The Tourism Impacts Primer for Economic Developers to learn the basic approaches to finding the economic significance of tourism in your region. Then dive into an analysis of your own!
Read about:
Analyzing the economic impacts of tourism
Crafting the right tourism survey
Sharing your findings