Economic impact analysis isn't just for those with years of experience in the field of economics. With IMPLAN's Quick Start Guides, you can harness the power of economic impact analysis to measure the influence of construction and operations on the economy. This white paper reveals just how quickly and easily you can get results.
Download Easy as 1-2-3: How You Can Analyze the Impact of New Construction and Operations with IMPLAN's In-App Guides now to find out how you can unlock valuable insights, regardless of your experience level.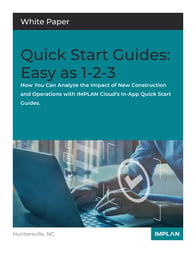 Read about:
How to streamline your IMPLAN Cloud experience with the Quick Start Guides
What you need to know to get started with your economic impact analysis
What your analysis can reveal about the construction and operations phases
ABOUT IMPLAN
As the pioneers of automated impact modeling, IMPLAN has spent the past 25+ years perfecting the process. With over 100 contributing data sources, IMPLAN offers users the power to perform the most accurate impact analyses possible.