Download The Nonprofit's Guide to Increasing Fundraising Results with Economic Impact Analysis today to discover how you can use IMPLAN to make your nonprofit stand out, raise funding, and report your economic impact to stakeholders.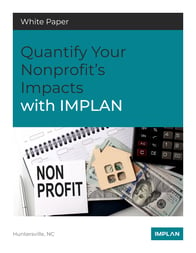 Read about:
The impact of nonprofits
How you can use IMPLAN Cloud to make your nonprofit stand out
How to create a poignant economic impact report to share with stakeholders
ABOUT IMPLAN
As the pioneers of automated impact modeling, IMPLAN has spent the past 25+ years perfecting the process. With over 100 contributing data sources, IMPLAN offers users the power to perform the most accurate impact analyses possible.