Download Quantify Your Environmental Impacts with IMPLAN today to discover how you can use IMPLAN to learn how the environment is affected by activities in your region, your company, your industry, and more.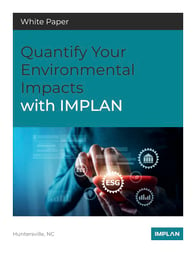 Read about:
How companies can illustrate the effectiveness of ESG stewardship practices
How to record direct and indirect carbon emissions in accordance with the Securities and Exchange Commission
How to navigate the categories and subcategories of IMPLAN's Environmental Data, sourced from the U.S. Environmental Protection Agency (EPA)
ABOUT IMPLAN
As the pioneers of automated impact modeling, IMPLAN has spent the past 25+ years perfecting the process. With over 100 contributing data sources, IMPLAN offers users the power to perform the most accurate impact analyses possible.