Are you using the power of economic impact analysis to influence Congress with data-driven results? This white paper reveals how reporting a few key statistics about the importance of your industry or proposed policy can unlock unprecedented success.
Download Maximizing Policy Advocacy Results: How Showing Your Value at the Congressional District Level Drives Favorable Outcomes now to find out how you can show Congress your value.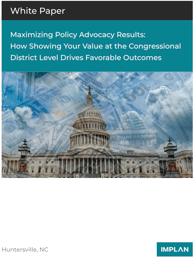 Read about:
How input-output analysis shows a change's ripple effect throughout an economy
How to explore economic impact analysis results in IMPLAN
How to make the right point to the right people for political advocacy
ABOUT IMPLAN
As the pioneers of automated impact modeling, IMPLAN has spent the past 25+ years perfecting the process. With over 100 contributing data sources, IMPLAN offers users the power to perform the most accurate impact analyses possible.