Develop economies with data!
Successful Community Development Entities use economic impact analysis to evaluate their portfolio. Does yours?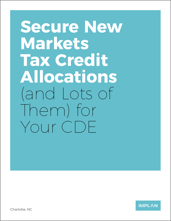 Download Secure New Markets Tax Credit Allocations (and Lots of Them) for Your CDE to learn how to successfully leverage economic impact analysis during the NMTC application process. Then implement this strategy to secure more allocations!
Read about:
What a CDE needs to perform an economic impact analysis on their NMTC projects
How impact analyses can evaluate the economic benefits of a CDE's projects
How to use impact analyses' results to benefit a CDE and secure more NMTC allocations