Commercial and residential real estate brokers and investors are relying on economic impact data more and more to gain a competitive edge in the market. Are you? What economic developers and state and local governments have known for years is more accessible now than ever. Here's how you can get into the game.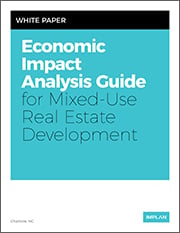 Read about:
The basics of economic impact analysis and what you need to know to get started
Choosing the right economic modeling tool and data
Best advice for reporting and communicating the economic significance of potential projects to close deals
Download now to learn more about demonstrating your economic impact and enriching your selling and prospecting process.
ABOUT IMPLAN
As the pioneers of automated impact modeling, IMPLAN has spent the past 25+ years perfecting the process. With over 100 contributing data sources, IMPLAN offers users the power to perform the most accurate impact analyses possible.