LEARN THE INS AND OUTS OF TAKING YOUR ECONOMIC IMPACT REPORT TO THE NEXT LEVEL USING THIS GUIDE.
Structuring and interpreting the results of an economic impact study is no small undertaking. Do you know how to best tell a story with your numbers?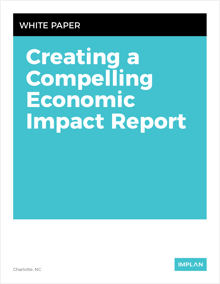 Download "Creating a Compelling Economic Impact Report" to receive an overview on how to structure your study appropriately, interpret your results in a meaningful way, and organize and present your results clearly in a report. Then, use this overview to create a compelling report of your own!
Learn about:
Laying the groundwork for conducting your study to subsequently construct the framework of your report

Building your story and the essential structural elements required for doing so

Presenting your report in a polished and professional manner