Get a detailed, by-the-numbers look at your industry's economic contribution.
Economic development organizations are using economic contribution analyses every single day to reveal the dynamic linkages and economic significance they have on a local economy. Is yours?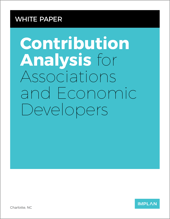 Download "Contribution Analysis for Associations and Economic Developers" to learn the basic approaches to finding the economic contribution of an industry in your region. Then dive into an analysis of your own!
Read about:
Exploring the basics of the economic contribution analysis technique
Getting started with an analysis of your own
Applications and techniques for putting the results to work