Received Your Economic Study? — Now Fact-Check It!
Ensure your results are authentic, confirm assumptions, and build confidence in your study by consulting this checklist.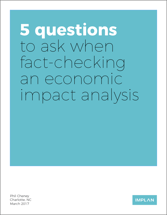 Download 5 Questions to Ask When Fact-Checking an Economic Impact Analysis to ensure your economic studies are sound. Then take action and promote their results!
Read about:
What can go wrong if your analysis isn't done accurately
The significance of assumptions when framing an impact analysis
Key concepts regarding how an impact analysis is conducted