Interested in learning more about Canada data? Sign up for early access as soon as it's available! Coming later this year.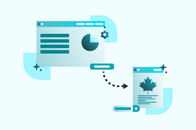 Learn More:
Available per 10 Provinces, 3 Territories, or National
2017 Data Year
234 Functional Industries
Multi Regional Impacts
Foreign and Domestic Trade
2 Employment Types
Tax Impacts
ABOUT IMPLAN
As the pioneers of automated impact modeling, IMPLAN has spent the past 25+ years perfecting the process. With over 100 contributing data sources, IMPLAN offers users the power to perform the most accurate impact analyses possible.